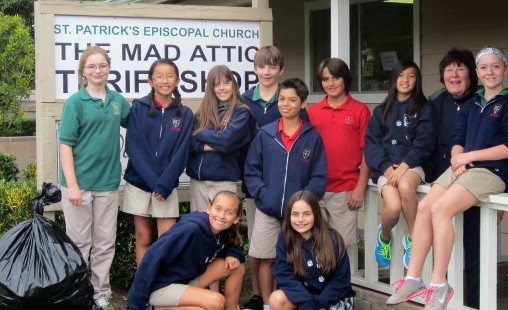 Service Learning expands a student's world and ties what is taught in the classroom to the community.  Service Learning connects community service with academic skills, and for our students, creates a deep connection between helping others and learning.
Service learning is the application of the values we teach.  Our students have the opportunity to exercise civic responsibility, compassion, kindness, leadership, and a duty to others.
At each grade level, St. Patrick's students participate in a number of ongoing community service projects that are age-appropriate and extend throughout the year.  Projects include working with a local food bank, working on a farm, recycling, making lunches for a homeless program, collecting and packaging donations for soldiers abroad, participating in beach clean up days, working at a local thrift store for charity, and more.
Service Learning also enhances the personal and social skills we are trying to develop in our students: working with and for others, communication in verbal and written forms, problem solving, logical thinking, organizational skills, and forming lifelong habits such as helpfulness, graciousness, and generosity.