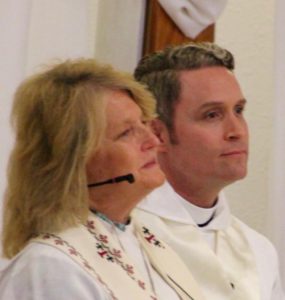 (Reverend Sarah and Father George conduct our weekly chapel service.)
Education of the mind, heart, and spirit is a key component of the Episcopal tradition. Episcopal schools are characterized by high academic standards, inclusivity, and social involvement through service to others. Episcopal schools are traditionally comprehensive and encourage respect for the background, culture, and beliefs of all individuals. Consequently, the St. Patrick's School welcomes families from all traditions, faiths, or none, because we believe that there is something to be valued and respected living in a community that proclaims the unique worth and beauty of all human beings.
The St. Patrick's School believes that young people should be encouraged not just to share what they have with others, but to understand the issues and complexities of society and to consider what their individual responsibilities are and to take action. The objective of an Episcopal School like St. Patrick's is to foster an education which seeks not only to develop each student academically and socially, but to prepare each student spiritually to live a creative, humane, compassionate life as a contributing member of society.