Language Arts
The comprehensive Language Arts program by Reading Street covers reading, grammar, spelling, vocabulary and writing. Students are assessed weekly on comprehension, vocabulary, spelling and specific reading skills (sequence, cause and effect, plot, setting, character, author's purpose, etc.). Reading skills are supplemented by six novel studies. Students learn the writing process, six traits of writing and the eight parts of speech. Writing assignments throughout the year include personal narratives, descriptive narratives, poetry, response to literature, comparison/contrast, research reports and persuasive arguments. Students also write daily on various topics in their reading logs and complete daily oral language exercises.
Mathematics
Students apply their knowledge of addition, subtraction, multiplication and division to fractions, decimals and integers. Our textbook blends mathematical skills and concepts development, with an emphasis on problem solving and mathematical reasoning. Specific units of study include number sense, place value, decimals and fractions, ratios, percent, algebra, measurement, geometry, statistics, and probability.
Social Studies
Students study United States History and Geography up to 1850. Houghton-Mifflin is the primary text and units covered include the following: Exploring and Settling America-Tracing the routes of early explorers; Life in the English Colonies-Colonial America; The Struggle for Independence-Revolutionary War, the formation of democracy, and the United States Constitution; and Life in a Growing Nation-Westward Expansion. Students also learn the location of the fifty states and their capitals. Throughout the year, students prepare an explorer report, perform in "The Thirteen Colonies" play, create models, and research and write a state report. Historical fiction is used in combination with the textbook to integrate Social Studies and Literature.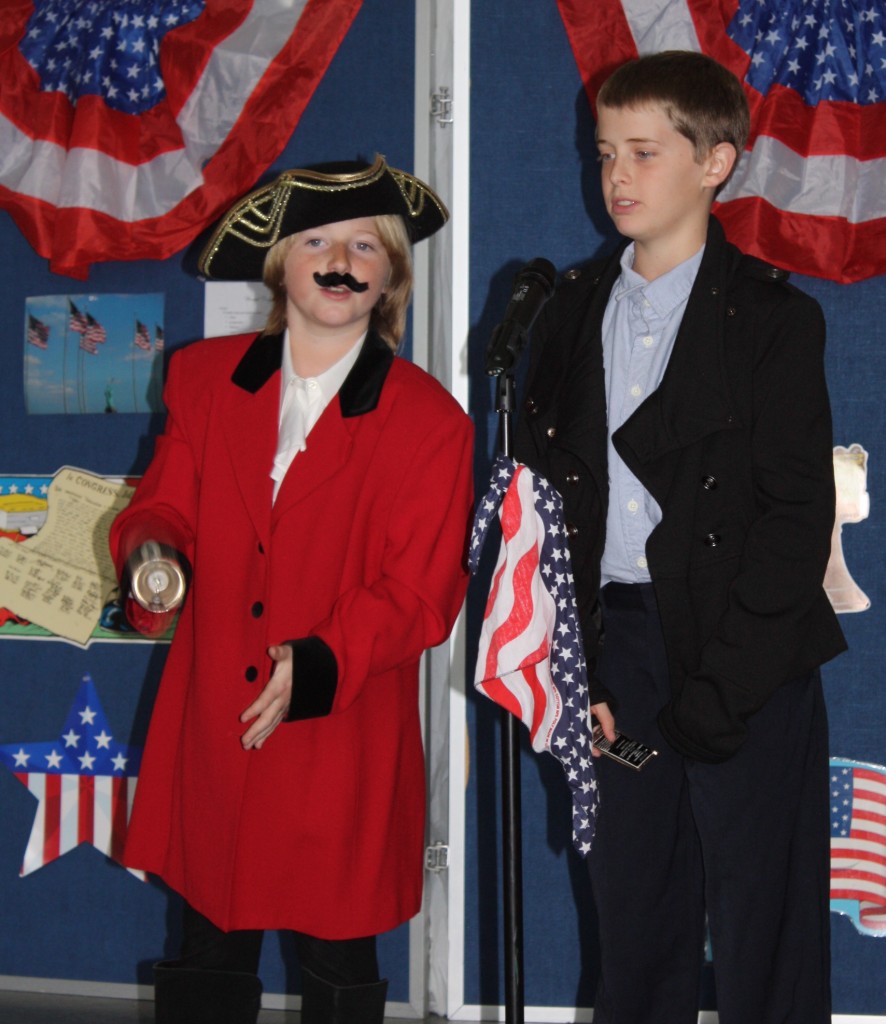 Science
We use the FOSS Science program which combines information with hands-on science activities and experiments that utilize the scientific method.  Our units of study address the following topics and concepts:
• The Solar System
• Body Systems
• The Nature of Matter
• Water on Earth
Each fall, students attend a three-day science program as an experiential component of their science learning. Last year, they attended WOLF camp in Ojai, California.  Students had an opportunity to work on STEM challenges, climb rock walls and ropes courses, and learn about primitive survival skills.
Leadership
Fifth graders are given opportunities to lead on campus. Weekly, they assume various leadership roles in assembly and chapel. Fifth grade students also act as "buddies" to the kindergarten students and share a number of activities and events together throughout the year.
Field Trips
There are several field trips that enhance the fifth grade course of study. Such locations visited may include
• Science Discovery Center
• Ronald Reagan Library
• Getty Museum